ALISON IRWIN BIG BROTHER 7
---
Alison is out

Alison and Danielle turned the game on in the first week after Janelle and Jase got HOH. It began with Danielle stirring up trouble over the concept of Janelle and Jase not agreeing on who they should put up. This got Alison going and she went on strong with trying to get this game going but Danielle had it in with the Big Brother 6 and so Alison had no hope. She was seen as a player that would turn it on and they did not want that so she was voted out of the house. Read more here:
Big Brother 7 Episode Alison Gone
Why you should've voted me in:
Well, I caused a lot of drama in season 4, basically because I was dating a schmuck. But now things are different. I've matured and found the love of my life! Most of the HouseGuests from my season left hating me. It changed me, and it made me a stronger and better person.
---
Real Name: Alison Irwin
Age: 22 on show
Birthdate: August 7, 1981
HomeTown: Pittsburgh, PA
Status: Single on CBS but she says she has a guy
Occupation: Retail Manager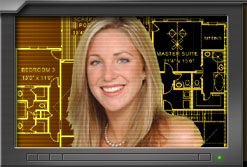 Current News: Alison is still together with her BoyFriend Donny and being runner up to this contest has lead her to star in Amazing Race 5. So you have not had enough of Alison you can catch her each on: Amazing Race 5

HISTORY ON SHOW
Alison was here to play and she did till the bitter end as she was the smartest player to date. She should have won because she won the competitions and she knew how to twist everyone votes to not choose her. But in the end she went up against a player who was considered the Cook of the house: Jun. So Alison lost the top prize as the rest of the jury hated her and all her schemes that no matter what she said they liked Jun more. Little did they know she made the show as the rest of the cast was extremely boring. Thanks Alison for a great show and too bad you did not win.

She came in the house first and wanted here Ex out of the House so she could she him go first. Alison has made a reputation for herself with her hatred towards Dana, and viversus. I guess Dana brought out the best in everyone. Alison is also know to be the kisser of men and was considered the biggest flirt in the house, but it was all for playing the game. Not a man has missed a bit of this girl.



Alison Irwin is Miss Greater Juniata Valley of PA, 2003
Want Pageant pictures click Here: Alison Pageant
Questions
JUSTIN IS ALISON'S EX

What is your motto?
iIrwin [last name] backwards is WIN-IR
What three adjectives best describe you?
Fun, loyal, outgoing
Who is your personal hero?
Britney Spears
Why did you want to be on BIG BROTHER?
Money and possible fame
What strengths do you bring to BIG BROTHER?
Mental and physical. I can adapt well and make others happy.
What weaknesses do you bring to BIG BROTHER?
iI have a big mouth and can be bossy.
What comfort item from home will you miss the most?
My kitty, "meow meow," and my boyfriend
What type of news from the outside world will you miss the most?
How my friends, family and boyfriend are all doing; who won miss Pennsylvania
Do you tend to perform better in physical or mental competitions?
Equal in both
How do you plan to win BIG BROTHER?
Not lying, not cheating and not talking behind backs
What is your biggest fear as you begin BIG BROTHER?
Missing my family and my boyfriend



Favourites


Film: Shrek
TV show: The Golden Girls
Actor: Bruce Willis
Actress: Cameron Diaz
Band: Ashanti
Hobbies: Dancing, watching movies, boating and hanging out
Scents: Chocolate, lily, Chanel, fresh jasmine, vanilla from Bath and Body Works
Flowers: Hyacinth, lily, roses
Board Games: Guesstures
Video Games: Any car game
Sports to Play: Football
Sports Teams: Pittsburgh Panthers, Bloomsburg University
Outdoor Activities: Swimming, boating
Music: Rap, R&B, hip-hop
Magazines: Cosmopolitan, Shape
Books/Authors: No favorite
Cereals: Smart Start
Fruits: Strawberries, pineapple, apple, mango, cantaloupe
Snack Foods: Slim Jim, cheese, pepperoni
Cookies: Chocolate chip
Candy Bars: Hershey's without nuts
Alcoholic Drinks: Malibu and diet, Pinot Grigio Principato wine
Non-Alcoholic: Water, juice
---
---

Alison & Donny
(Amazing Race Page)
Alison Pictures
(From the Show & More)
---
---
BigBrother 14 Cast
---
BigBrother 13 Cast
---
BigBrother 12 Cast
---
BigBrother 11 Cast
---
BigBrother 10 Cast
---
BigBrother 9 Cast
---
BigBrother 8 Cast
---
BigBrother 6 Cast
---
BigBrother 5 Cast
---
BigBrother 4 Castt
---
BigBrother 3 Castt
---
BigBrother 2 Castt
---
BigBrother 1 Castt
Reality TV Info
Philippines PonyTV
---